Thank You for a Great Summer of Reading!
And it's not over yet
There is still time to check in, win both raffle tickets and prizes.
Story Time with Miss Jacky Thursdays in August!
Join Miss Jacky Thursdays at 10:30 for stories, songs, crafts & fun. Registration not required--just come! (Changed from Mondays by popular request.)
Our New Building's First Art Exhibit!
Paintings by Soo Rye Yoo on Display this Summer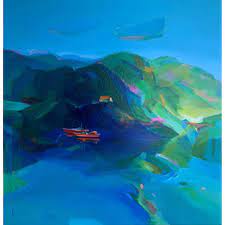 We are pleased to exhibit the work of Soo Rye Yoo this summer. Originally from Seoul, South Korea, Soo clearly loves the act of exploration in her artwork. As Art New England described, she moves easily "between oil and acrylic paint; bold cadmium orange and red, deep cerulean blue. One can imagine Yoo in her studio, dancing with her brushes and paint, enjoying every energetic moment of creation."
Daytime Book Group Returns
Monday, September 26, 3:30 PM
Join us in person or via Zoom for a discussion of A Town Called Solace by Mary Rawson. If you'd like to join us virtually, contact us at 743-1400 or library@madburylibrary.org and we'll send you the link.
Friends of the Library Will Meet in August
The next meeting is Thursday, September 8, 7:00 PM. Help plan the library's Madbury Day party!
Writing Group Returns!
Join us the first Wednesday of each month at 6:00 PM
Do you have a story, poem, essay, or even a play to share? This easygoing group is eager to welcome you on Wednesday, September 7..