Our New Building's First Art Exhibit!
Paintings by Soo Rye Yoo on Display this Summer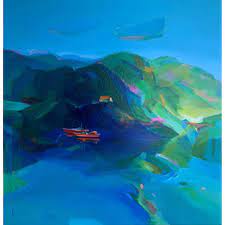 We are pleased to exhibit the work of Soo Rye Yoo this summer. Originally from Seoul, South Korea, Soo clearly loves the act of exploration in her artwork. As Art New England described, she moves easily "between oil and acrylic paint; bold cadmium orange and red, deep cerulean blue. One can imagine Yoo in her studio, dancing with her brushes and paint, enjoying every energetic moment of creation."
Time to Sign Up for Summer Reading 2022!
Program Runs from June 27 to July 29
Find out about all the events!
Story Trail is Back!
Come Meet Crunch the Shy Dinosaur
The trail is located behind Town Hall. Go to the kiosk at the start of the trail and look for the Story Trail sign
Daytime Book Group
Monday, June 27, 3:30 PM
Join us in person or via Zoom for a discussion of House of Mirth, Edith Wharton's classic novel of the Gilded Age. If you'd like to join us virtually, contact us at 743-1400 or library@madburylibrary.org and we'll send you the link. This will be the last book discussion until September 26.
Friends of the Library Will Meet in August
Thursday, June 9, 7:00 PM
The next meeting is Thursday, August 11, 7:00 PM.
We Got a Grant...
And Madbury will have a preschool playground!
After many months of planning, we are excited to announce that the library has been awarded a grant for just over $14,000, to install a natural playground outside the Children's Room. The funds are part of the American Rescue Act Plan (ARPA) and the award comes from the Institute for Museum and Library Services and the NH State Library, The grant funds will be combined with other money raised--especially Lorraine Morong memorial funds--to create a story time circle near the building and a full outdoor play and learning space.
Read the full press release here.
Two Weekly Story Times for the Summer
Mondays at 10:30, Wednesdays at 11:00
Join Miss Jacky Mondays at 10:30 for stories, songs, crafts & fun. Miss Kayla will offer yoga stories Wednesdays at 11:00. Registration not required--just come!