Introduction to Breathwork
Monday, October 3, 6:30-7:30
Want to slow down and tune into yourself more this fall? Join Becky Jenkins, owner of Symmetry Yoga in Newmarket, to learn how breathwork can improve your daily life. Becky will show you three simple but effective breathing exercises to bring the body and mind into alignment.
Oyster River Community Read Is Here!
Don't miss a great lineup of programs September-November
The biannual Community Read will focus on two books, Palaces for the People by Eric Klinenberg and Look Both Ways by Jason Reynolds, and the broad theme is community and the public spaces that bring people together. Find out more! We have copies of Palaces to give away!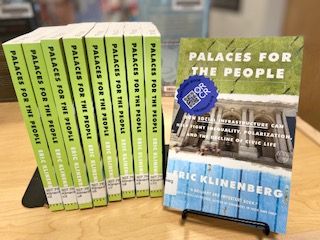 Fall Preschool & Toddler Story Times with Miss Jacky
Join Miss Jacky Monday and Thursdays at 10:30 for stories, songs, crafts & fun. Registration not required--just come!
Come for Story Time, Stay for the Playground!
Nature Play Space Now Open
Story Time will take place outside in our new Story Circle, weather permitting. The play space is open anytime even when the library isn't open. Enjoy!
Friends of the Library Meet Thursday, October 13
Join the Friends for their October meeting at 7:00 PM. New Friends are always welcome!